Holidays by the sea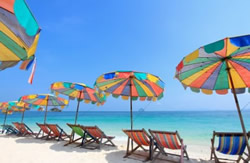 Britain is famous around the world for its seaside holidays, and its fair to say that the British are very fond of their seaside holidays too.  Thriving coastal towns such as Brighton (East Susssex), Margate (Kent), Weymouth (Dorset), Skegness (Yorkshire) and Pembroke (Wales) are just a few of the very popular beach locations for holidays.
Thriving Seaside Towns
Thriving tourism industries ensure that you will not be disappointed when you visit these seaside locations.  Many towns offer great restaurants, shopping as wells as attractions to help attract new visitors to the area.  Sandy Beaches offer hours of entertainment on family holidays with the parents relaxing whilst the children amuse themselves building sand castles and burying Dad in the sand!
Types of Beach Holiday
Other beach locations such as Newquay offer fantastic facilities for surfers and water sports enthusiasts.  Often the beaches have designated areas for different sports as well as swimming to help ensure a safe and enjoyable day out for all.  Things to consider regarding about choosing a location for your holiday by the sea:
How close to the coast do you want your coastal cottage to be?  Have a look on the map shown on the detail page for each cottage to give you a rough idea as to how close to the sea the cottage is.  The cottages generally are within 5 miles of the coast and the closer to the coast the more expensive the cottage may be
What are your holiday plans at the coast?  Are you looking for a holiday on the beach with miles of golden sand which are great for building sandcastles but are usually busy in peak season and more family orientated.  Pebble beaches can be just as good and without sand blowing all over your picnic.  If the beach is not your motivation for a seaside holiday then there are plenty of coastal locations with lovely coastal walks, access to beautiful wildlife to watch, photograph or draw.
Taking your pet on your seaside holiday
If you plan to take your dog to the beach to enjoy the sea and the holiday with you there are often rules that apply on the beach. For example Dogs may only be permitted on the beach if they are on a lead and obviously you will need to clear up any mess from your dog.  Check the local council websites for the rules for a particular beach.  If coastal walks are your plan then taking your dog is great exercise for the both of you.
Seaside Parking
Generally parking your car close to a popular beach on a sunny day can be both difficult and expensive.  If you plan to visit the beach a great deal on your holiday then you may want to consider a cottage that is either very close to the beach e.g. an apartment with sea views or a cottage location that has good public transport links to the seaside town such as a regular bus service or train to the seaside town. 
If you are not too far away from the seaside you could also consider taking the bikes so you can cycle down to the beach for the day.  If not, take a little time to research the car parks in the area as often a cheaper / better value for money car park is available just a short walk away from the beach compared to one next to the beach.
Seaside Attractions
There are often great attractions close to the seaside town.  Road trains for young children as well as older people can be a great way to explore the beach area.  Amusement Arcades are also popular ways to spend money at the seaside.  Rides such as Ferris wheels, Dodgems and Spiral Slides are popular on piers and seaside locations.
Eating out
Due to the popularity of the seaside towns with holiday makers you will find a wide variety of restaurants and eating establishments located close to the beach.  These will suit all tastes and budgets from fish and chips and ice cream on the seafront to exclusive Michelin stared restaurants.
Types of holiday accommodation near the sea
As you would expect, there is often plenty of choice for holiday accommodation near the coast.  This site mainly features the hundreds of holiday cottages and apartments available near the coast.  However, other considerations cold be a holiday caravan sited on a holiday park near the coast, holiday lodges and then there are hotels, guest houses and Bed and Breakfasts.  If you are looking to travel around or are looking for very low cost accommodation a local hostel may be of use.